I love
The Undomesticated Momma's blog
and was excited to play along with her "Top 2 Tuesday". It's so hard to pick just two celebrity styles, so I had to pick my favorites and throw in some honorable mentions...I'm cheating, I know!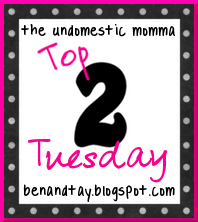 1. Nicole Richie
I love her effortless style and how she makes everything "work". I don't think I can pull off half the things she does, but I give her tons of credit!
2. Victoria Beckham
She has a couple out-there looks, but who else can pull off 5-inch heels all the time? Being married to David Beckham doesn't hurt.
Honorable Mentions:
1. Katie Holmes (or Suri, if they made her clothes in grown-up sizes)
2. Rachel Bilson. Another gal with effortless style and a chic, breezy look.