September for me means the coming of pumpkin candles, questionably warm weather, my birthday, and almost all of my best friends' birthdays all in a row. I mustered the strength to hit up the mall today and see if I had the willpower to not purchase anything for myself. I ended up not purchasing anything!! A small victory for my willpower and a loss for finding anything for my friends. I did however find a million things I loved at Anthropologie (big surprise) - and 2 of them happened to have a dog-print pattern. I didn't expect that turning 26 would mean turning into a crazy old dog lady.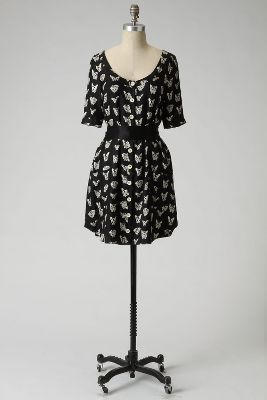 I don't know if I have the courage to actually wear a romper, but it was super cute. Even if means that I am showing the world my love for dogs via fashion.
I actually found the strength to go into Charlotte Russe (which I haven't been in forever because almost everything in there I can find at Forever 21 at a better price) and their fall clothes were super cute - but everything I tried on was lacking in some way.
Itchy and tight in the wrong places. A bit too short for work.
Itchy!!! Too tight in the chest in the medium, too large everywhere else in the large.
So fortunately in this instance - no winners. Off to watch the True Blood finale - hopefully it's as good as I hope it will be!