This is what I tried to tell myself anyway. When I was little my mom and I always went to the Annual Nordstrom's sale as a time-honored tradition. Telling myself I was just keeping up the tradition I went yesterday and tried to keep my wallet stapled shut. Fortunately for me, there wasn't anything amazingly on sale that I just had to have. I tried on the Tory Burch Revas that I've been lusting over forever (and are never on sale), and ended up buying them on eBay. I'm really excited to finally have a cute pair of flats that are super comfortable, even if it means I'm going to feel like a dwarf. I'm 5'6, but since I wear heels every day I'm convinced that I'm 5'10. Thanks Jessica Simpson heels.
The list of amazing things on sale that I didn't buy:
MAC brush set for $40
Hudson jeans for $119
New Carolina Herrera CH perfume + lotion set for $90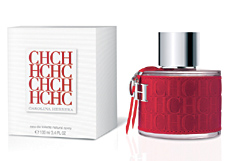 "I'm not on sale!" - CH Perfume

I know I'm a cheapskate sometimes, but for some reason when looking at that list nothing looks like a ridiculously awesome deal. I did like the CH perfume a ton though, and if I'm able to find it less expensive after it officially comes out in October I might pick it up.
Today I was finally able to run some errands and pick up gifts for some upcoming baby showers. Mr. Bee was nice enough to go with me to pick things out, and we had a great time trying to figure out shock-absorbent strollers, Butt Paste, and vibrating play pens. I found some of the cutest things for them on etsy that I'll post after the showers, but I was considering buying them and putting them away, or at least dressing up my cats. Can't let things of cuteness go to waste.